Events held in Turkey today officially began in 2021 Hyundai Elantra adventure took place on the list with only one engine option.
Elantra, which first showed its face with the event held in March of last year, found itself among the first representatives of Hyundai's new generation design language. After a while steering the ongoing sales process finally curled abroad to Turkey. Today Turkey within the scope of regulated digital sales began officially launch 2021 Hyundai Elantra comes with five different trim levels and atmospheric quality single-engine market in Turkey. It is also noteworthy that the sporty sedan car, whose starting price of 231,500 TL was announced exclusively for the launch, has a price tag of up to 410,000 TL in the Elite Plus, which is the highest equipment level.
2021 Hyundai Elantra price list
Before going on to the detailed features of Elantra, let's first look at item by item pricing. The list announced by official sources today is as follows;
1.6MPI 6 Advanced Manual Style (Gasoline) 231.500 TL
1.6MPI CVT Automatic Style Comfort (Gasoline) 296.000 TL
1.6MPI CVT Automatic Smart (Gasoline) 325.000 TL
1.6MPI CVT Automatic Elite (Gasoline) 370.000 TL
1.6MPI CVT Automatic Elite Plus (Gasoline) 410.000 TL
Elantra continues its adventure with its seventh generation
The Elantra, first introduced in 1990, is now in its seventh generation. The model, which has succeeded in selling more than 15 million units in 30 years, is one of the leaders of the South Korean manufacturer in this field. Primarily America, Korea, China, and Turkey's goal in the vehicle are prepared taking into consideration other Asian markets, and is considered a more sporty sedan car at the same time wanting to have a different design lines as to reach individual customers. New ELANTRA with model code CN7 reflects Hyundai's new design identity, which is based on extraordinary shapes and textures, called Parametric Dynamic.
Developed on Hyundai's third generation vehicle platform K3, Elantra promises a lighter and better fuel economy than its previous generation. While this platform also allows the vehicle to lower the center of gravity for more agile handling, it also increases safety because of its multi-layered structure in the event of a collision.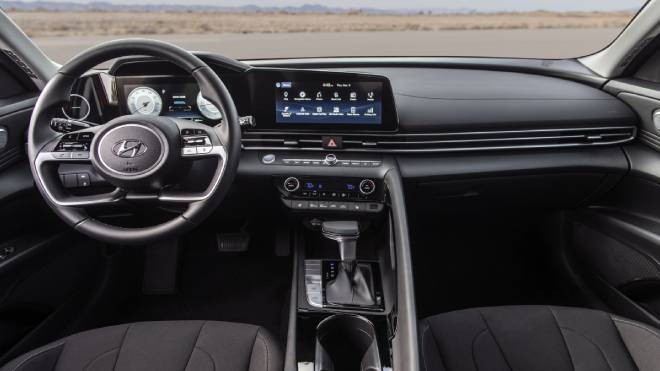 In Turkey, "Style", "Style Comfort", "Smart", "Elite" and "Elite Plus" including the cars sold in five different trim levels, technological characteristics as ambitious as minimal design. Dual LED headlights, LED daytime running lights, longitudinal H-shaped LED rear lights, retractable roof, 17-inch aluminum alloy wheels, electronic parking brake, smart cruise control, wireless charging system, rain sensor, front collision warning system, lane keeping and tracking The warning system and 10.25 inch information display constitute the most important equipment of the New ELANTRA. In addition, the wireless Android Auto and Apple Car Play features offered in the vehicle also offer a combined connection feature with a 10.25 inch information display. The 8-speaker Bose sound system offered at the Elite Plus hardware level will also attract the attention of music enthusiast users.
It may attract your attention
Announced engines for the 2021 Hyundai Elantra
The new Elantra is sold with a single engine option in the first place in Turkey. The vehicle has a 1.6-liter naturally fed engine and CVT gearbox. In addition to the CVT, a 6-speed manual transmission is only available in the Style trim level. With this engine that produces 123 horsepower and 154 Nm of torque, the Elantra can complete its acceleration from 0 to 100 in 10.6 seconds, and the maximum speed that can be reached is 197 km / h. The average fuel consumption of the Elantra with its atmospheric engine is given as 6.4 liters.
Related video